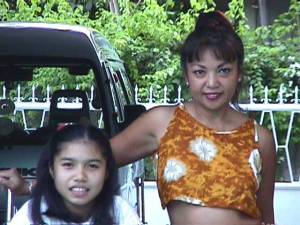 charina and ming

Want to hear some true stories with happy endings???
Let me share with you one of my most beautiful experiences on the web.

Last year, I wanted to set-up a website, but I wasn't so sure yet, of what I was going to do. I was just fascinated with the web and the unlimited opportunities you could tap into. I knew I wanted to make a personal website. At first I thought I would sell silver jewelries as well as local handicrafts...little did I know that I was going to set up a website, promoting my country, selling real estate instead and even touching on some social issues about the islands. This really took me by surprise!

Anyway, I just rolled in with the waves, following my perception, promoting my islands, and putting on the web, things that basically interests me, like the different islands of the Philippines, friendship and poetry page, etc... I have made a lot of local and international friends around the world and have had many good experiences with them. Last October, 1999, I had an unusual request from an American whom I met on the web, named Frank. He asked me to help him, regarding some issues, about a little girl who came from Camotes island, and was born with a club foot.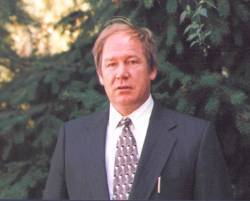 FRANK
also set up a website about Camotes Island, featuring Charina.
This girl's name is CHARINA. Since I was commuting to Camotes island on a regular basis, can I check her out??? Well, my busy schedule did not allow me to see her immediately, but being eager to help, I published her on my web page too and linked his site to my site.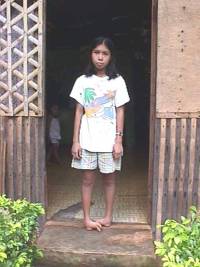 CHARINA
I cried one day when I didn't get a new pair of shoes until I saw the young girl who didn't have a normal feet. Charina urgently needs a feet surgery,
Can you help me, help her?
An increasing no. of people were touched by the pictures, and I started receiving mails and enquiries about her condition. So 3 months later, I decided to search , McArthur town in Tudela and look for this girl, Charina, who was obviously making waves all over the world. It was not difficult to search for a girl with an unusual feet, in an island wherein everyone knew each other.

At the end of December, 1999, I finally met Charina. As soon as she saw me, her first phrase were " my prayers are answered". I never met this girl before, but the moment I saw her, I just wanted to break down and cry. I immediately replied, "girl, you don't know your prayers are moving mountains. you sure know the art of praying as there are people all over the world, who are very concerned about you". Meeting her, made me want to work harder on her case. She became very much a part of my unconscious obligations, and have consciously decided to make her my main cause.
Frank continued to correspond with me and continued sending me contacts on the appropriate institutions , who could help. Tim , the moderator of popular website, the American / Filipina friendship board, offered to make another website for her. And EJ, another american from florida, a magician, also offered to set-up a magic show to raise funds for her operation. Initially, we thought about sending her to the US for a free surgery, but Frank sent me a contact address about a local charitable organization called "SHRINERS". They have been operating on deformed children for the last 20 years, for FREE !!!!
As soon as I got in touch with the doctor. I had Charina sent from camotes island to Cebu.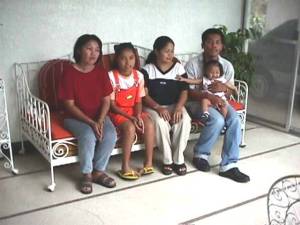 charina in cebu,
escorted by mother, riza (aunt) and uncle, and niece


The doctor took a look at her on January 27, 2000 and the next day, she was immediately admitted to the hospital. I was surprised how fast our hospital system here works. She was admitted immediately, without any single paper except for the signature of the doctor.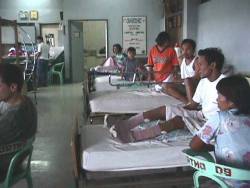 Cebu City Hospital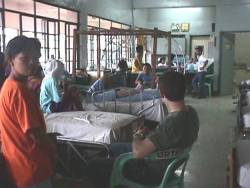 On February 8, 2000 Charina had a successful foot surgery in Cebu City Hospital, Cebu.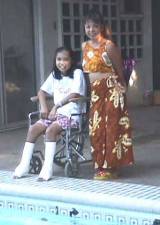 now charina has reason to smile
Charina is now back in the islands, and is still healing. She still has the cast on her feet, which bleeds occasionally. And she is occasionally in pain. But who can heal the emotional scars? Only time can tell.
She still dreams of living a normal life with a normal feet , and a prayer still lingers in her lips, this time ,.... it's a prayer of joy and thanksgiving !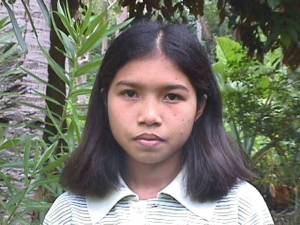 my story

I am Charina Sevillejo, a poor child. This is my past experience about my inborn defect. Since I was a month old, my parents left me to my grandparents, and from that time on, they were in charge of me. Until I grew up, and started to study. During my school period, I met a lot of friends. So I'm happy to be together with my friends. But there are moments that I and my friends are quarreling with each other, so at this moment, they reject me. And they make fun of my inborn defect. So I will just cry to myself and wallow in self-pity. During my elementary years, I attend the activities in school, until I graduated and proceeded to High School. The first day of my high school, I was very embarrassed, because all the students who saw my feet, imitated the way I walk and laughed at me .But they were not yet satisfied, they all laughed at me, facing me, and shouted names about what I am, and my inborn defect. So all I do is to keep on crying and wallow in self-pity . Sometimes, I blame the Lord for what he has done to me. But after awhile, I feel guilty and apologize to him again. My grandparents and all my relatives advised me, just to ignore the people who rejected me, and made fun of me. And they also advised me to keep on praying. So I just followed their advice. Also my teacher told me that I only have a physical inborn defect, and the people who laugh at me, has an internal inborn defect. This statement also comfort me. I retained a few friends, and there were always people who rejected me. But I just ignore them, and remained humble, as I try to attend all the activities in my school. My daily life runs like this: I wake up in the morning, I arrange my bed, after I take a bath, then I prepare myself for school, and then I eat breakfast before I go to school. After School, I go home, then I will put my school uniform in my closet and change into a home dress. Then I eat my snacks, and later in the day, we eat our last meal with the family. I am the one who wash the plates. On the weekends, I am the one who wash our clothes. I also help my grandma clean our surroundings, And when there is nothing to do, I relax or listen to music, as I sing to my favorite tunes. SINGING is really my favorite hobby. And during the night, before going to bed, our family pray the rosary together. So I also pray, full of self-pity, even when I am lying in bed. I always asked our Almighty God to help me, so when the time came, that someone offered me help, I was very thankful to God because I already knew......the moment I laid eyes on Ming. And I continued praying that the offer to help me was real , sincere, and successful. This is all I can share about me right now, my good and bad experiences.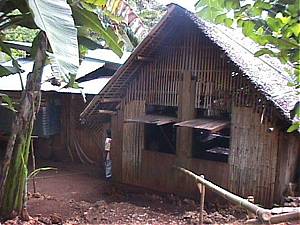 this is my home


The "Charina experience" left me a deep lasting impression. For the first time in my life, I was confronted with poverty at the hospital. This was a social government hospital who admitted people without funds. I was impressed at the swiftness of their action. If she was admitted in a private hospital she probably had to fill up and submit lots of documents before she could be admitted. I have witnessed a lot of discrimination too amongst the very poor people. I love my country, but sad to say, the poor in this country must find their voice.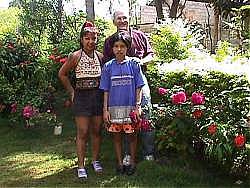 recent post-operation picture
Charina, Ming, and EJ
6/2000

I want to thank a few people who believed in me and supported me in this cause.
Frank - we probably have our differences, but without you, the footwork and research, you have made, set up the foundation of this project . I would never have gone this far without you. Thank You. No one has accomplished more work nor less . It has become clear to me, that we were all instrumental to one purpose_ that is, to help Charina in her path.

EJ from Florida - Thank you for all the support ( financially , emotionally, physically, and spiritual) you have given Charina and me . May God bless you !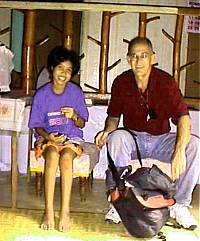 Charina and EJ

Eddie from Philadelphia - Thank you for visiting Charina, and giving her, her first set of shoes.

Augie from California - Thank you for your financial and moral, support. I really appreciate it.

Bebot from Macau - Thank you for your financial support.

Bill from Arizona - Thank you for your continual support and contribution.

Lyndon and Jean from New Zealand - Thank you for believing in my projects, and setting up a charitable fund for me and my social causes !!! Also thank you for the childrens clothing for charina!

Dr. Felix Vicuna , Surgeon - In behalf of Charina, I , and all the deformed kids you have operated upon, we thank you for your work and your charity. Keep up the good work !!!

"SHRINER'S" - Thank you for your charitable organization, and making miracles happen. More power to you !!!!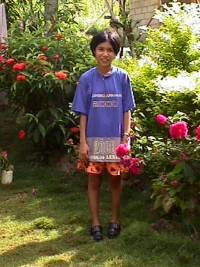 If you want to write to charina or sent her a gift ,
please feel free to do so, thru Ming.





Menu . Camotes Island . Historical Church . San Francisco Market
Bukilat Cavern . Lake Danao . Tales . Issues . Charina