Dream


AllPosters.com



REPUBLIC OF BOHOL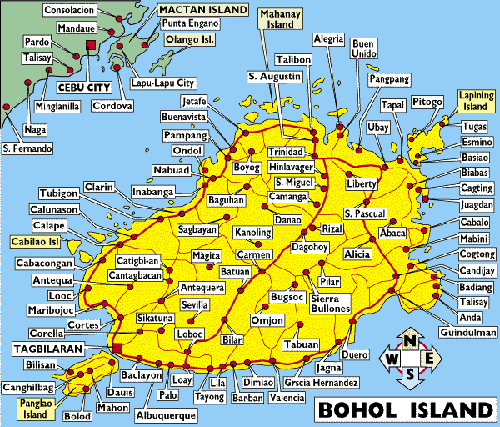 Bohol Island, southeast of Cebu, is the Philippines' tenth largest
island. Rich in agriculture and fishing, Bohol has been discovered
by tourists seeking the simple charm of a rustic retreat. The rich tropical waters off Panglao island ebb and flow above some of the Philippines most seductive dive sites.

As one sets foot in Bohol, he will conclude that time has been kind to the religious Boholanos, for allowing the past to be part of the present. Nowhere in this part of the country can one still see traces of Spain's four hundred years of influence which are evident in the religious and public structures. But the hispanic legacy to the island is not only the fascinating feature Bohol can offer. Nature too has been good to the island dwellers for they are blessed with natural wonders that amaze countless tourists.

Generally, Bohol's terrain is a magnificent landscape with rolling hills and rice fields. The province is the rice granary of Central Visayas. It is situated in the center of the southern tip of the Visayan region - an easy access to and from almost all major cities in the Visayas and Northern Mindanao. It's capital city, Tagbilaran is 630 kilometers from Manila and 72 air kilometers from Cebu City.

Bohol is a first-class province. It has 47 municipalities, 1 city, and has 1,114 barangays. It has a population of 948,315. The Top three household dialects are Binul-anon, Cebuano, and Tagalog. Filipino and English are widely understood and spoken.
Boholanos are basically generous people and are a happy lot who knows how to celebrate and share the bounty of their harvest. There are only two community celebrations that they eagerly await each year: Fiestas and the Christmas season. Uniquely Boholano is the celebration of fiestas on the month of May when each day a town or barrio feasts with so much revelry. This is also the time for family reunions. Kinsfolk from near and afar gather to keep in touch with loved ones. The city of Tagbilaran initiates the festivity of the fiesta month, with its fiesta falling on the 1st of May.

The annual spectacular festival of the province is the "SANDUGO".
It features an agro-industrial fair, a cultural and historical showcase, sports events, beauty pageants, balls, musicals shows, and a street-dancing parade which culminates with the re-enactment of the Blood Compact (Sandugo) between Datu Sikatuna and Miguel Lopez de Legaspi. The week-long fun and gaiety is held on the third week of July.

Buses link the main towns on Bohol with Tagbilaran. Information on fares and schedules is available at the city's two major bus terminals. For short trips in and around Tagbilaran and across the bridge to Panglao, jeepneys and tricycles provide a quick inexpensive service. They even drive you right up to your doorstep.

Ready for a tour? please proceed...!
Homepage . Bohol Menu . Introduction . Bohol Tour . Bohol Tidbits .





Ming's World© All Rights Reserved. 1999-2003